I finally (it wasn't that long but I was impatient) got my China Glaze crackle set in the mail and was able to try it out.
The first one I decided to try was the Tarnished Gold.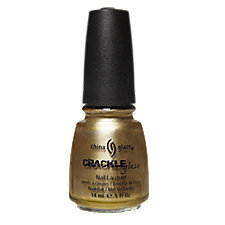 $6.99 China Glaze Tarnished Gold Crackle nail polish
I put it over Sally Hansen Glossy, a very dark shimmery maroon/brown that almost black.
$2.99 Sally Hansen Glossy nail polish
I put one medium coat of crackle over two thin coats of the glossy base.
At first I was worried because the crackle polish seemed thick and the glitter in it was larger than I was expecting.
Most of the nails did crack pretty nicely, though.
I do wish the polish was a little thinner and the sparkles were a little smaller because then I think you would be able to see more fine cracks.
Here is the end result:
Like it?
I do. It does look tarnished and antique and I think the dark base coat helps this effect.