Mine was fun!
I didn't go to all of the spots on my
list
, but I did make it to
Erin Shaw's show
and 6 other designers that were showing at the venue as well.
While there, I got an oxygen facial. What's that? I still don't really know.
First, they cleaned my face with something, and then a woman came over with an airbrush gun and put a clear liquid in the top and sprayed my face all over with it. It was wet. Then she sprayed just air, I think, or maybe that was the oxygen? until I was dry.
This is what the airbrush looks like- the top cup is where the liquid (or makeup if you are getting that) goes, and the air comes out right below it.
Oxygen facials are supposed to make you look more glowy and fresh. No one seemed to notice any before/after differences, but when I told E about it after getting home, he did say I looked a little shinier.
I also got my first fake lashes put on! Even though the woman doing it was clearly a pro, she had trouble with my right eye and getting my lashes to blend with the fake ones. It made me wary of doing it myself.
They looked kinda cool and kinda crazy when I had them on.
I was hoping they would stay while I slept so I could get another day out of them, but the edges of both eyes came unstuck so they were just attached in the middle and going straight across and not matching the shape of my eye, so I pulled them off.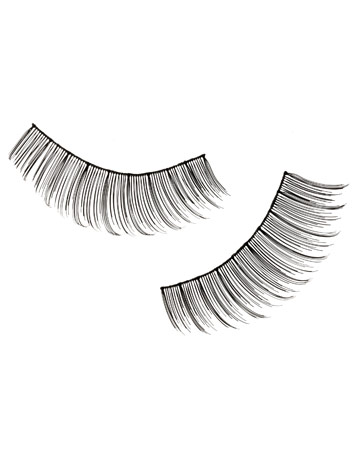 The lesson I learned about lashes is that you better curl curl curl your own if you want them to be as curly as the fake ones. I think that was the problem.
After that big show, I went down to Soho where most of the action was. I stopped by the QVC event and got to see Heidi Klum (she is very tall and graceful in person), and walked through the packed streets looking for other fun events.
I got a soft tee shirt at OMG (a denim store) and stopped by Via Spiga (unfortunately, nothing I liked enough to buy to get the free nail polish) and a few other places.
When I got to the Surface to Air store, they had already closed, and that was disappointing.
In all, a fun night and next year I'll make sure to get downtown earlier so I don't miss as many in-store events!