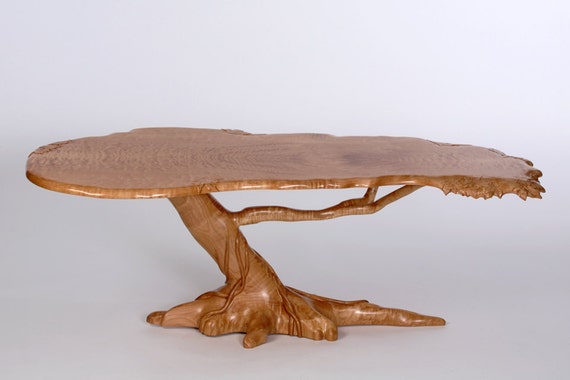 $5,000 Bonsai coffee table
This table looks like a wind-blown tree, and even has leaf details on the underside.
The description at the Etsy store will tell you the rest:
This is a handcrafted custom coffee table made of quilted maple. The top surface is bookmatched making for a unique symmetry in the grain pattern. A rather unusual aspect of the table is the removable top. The ends of the branches are simply pulled downward allowing the tabletop to be unlocked and moved forward via two sliding dovetails machined into the top of the trunk/bottom of tabletop. Even though this piece looks delicate, it is rather sturdy capable of holding 75 pounds or more! Dimensions are 52" x 24" x 18".

The bonsai style is a concept that can be used on any sized table. Custom orders are welcomed!
I totally don't get how it folds, but I'll believe it.
Looks really well crafted.
This would be a great centerpiece of a living room.
I can see it on a fluffy off-white carpet and a silver tray on top.