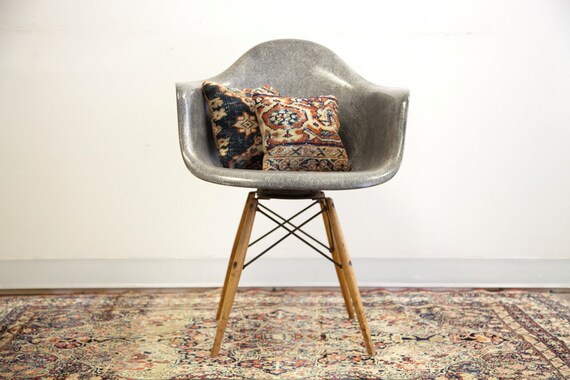 This is apparently from the first production of this line, from 1950. The fiberglass shell is elephant gray, which is an elegant color that goes with everything.
I like the juxtaposition of the wooden legs and geometric bottom with the high tech curvy top.
Here is the description from the
seller
:

:: Amazing and rare first production 1950 Zenith Herman Miller chair often called a "PAW chair" with its swivel dowel base made of birch wood, with the fiberglass shell color being in the much sought after + highly collectible color of elephant hide grey. This chair, in very nice 60 year vintage condition, is an absolutely stunning piece of mid century furniture history and it is just so darn beautiful!

:: We believe this chair to be all original with all original parts -- the awesome dowel base reads "Seng Chicago" on the metal portion, fiberglass shell in excellent condition with no cracks and shows off its exquisite rope edge nicely as well as the swirls of the fiberglass that showcase the beginning days of the company's experimentation, and the Zenith checkerboard sticker fully intact on the bottom of the chair.

:: Conditional notes: the swivel base is a bit squeaky + has some cosmetic rust on the metal portion but does properly swivel and function. Proper and careful oiling will likely fully alleviate this. The light and beautiful birch wood dowel base does show age with some markings which as you can see in the photos, does seem to add in a good way to the chair's awesome vintage look. Fiberglass is beautifully fibrous and there are no issues with the color or anything, very beautiful condition, appears very lightly used.

:: Measurements: seat width is 18", arm to arm is 25", each birch leg measures 16" long, height from the floor to chair bottom is 17" + floor to the very top of the chair measures approx. 31.5".