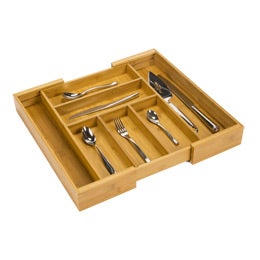 $19.99 (was $29.99) Expandable bamboo cutlery tray
Yeah, so I know this is for silverware, but I think it would also be great to hold bracelets and necklaces and oversized earrings or rings or hair things.
$4.49- $9.99 Stacking jewelry trays
This is a modular system that you can build yourself.
When I first saw it, I was like "$5 for a tiny tray?! No way!" but now when I see it again I realize that you can really customize a whole jewelry box for yourself exactly the way you need it for under $50, and that might be worth it after all.
I would get:
2 of the $7.49 18 hole trays for earrings
2 of the $7.49 9 hole trays for bracelets
2 of the $7.49 5 hole trays for necklaces and watches and larger things
which totals $44.94
Not too bad! And you can keep adding to it