One of the things I most want when we move is a new couch.
I wanted one when we moved into this current place together, but it was so much cheaper to recover E's Ikea couch, especially since the cats were going to destroy it anyway.
The slipcover is fine, but the couch isn't super comfortable and the cushions move around all the time. We are constantly kicking them back into place with our knees.
Also, I we eat on the couch all the time and I will admit, I spill pretty often.
So the white covers, while washable, don't look the cleanest.
I really would like a slate gray couch. And maybe even a sectional.
I don't like super modern flat boxy designs. I like clean lines but I like comfortable plush pillows instead of minimalist couches.
Here are some I like:
$3,699 PB Comfort roll arm left sectional
Twill in metal gray, knife edge pillows with down blend cover
118" w x 87.5" d x 42" d x 39" h
MMMmmm down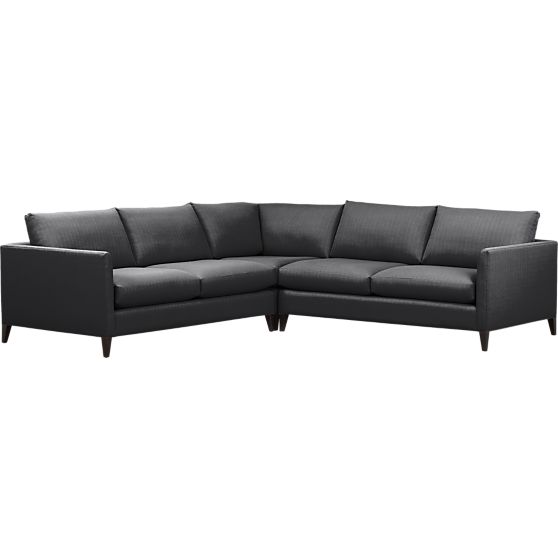 $2,799 Crate and Barrel Klyne 3 piece sectional in Slate
Left Arm Apartment Sofa, Corner, Right Arm Apartment Sofa
107"Wx107"Dx27"H
I like the dark color of this one and the little leggies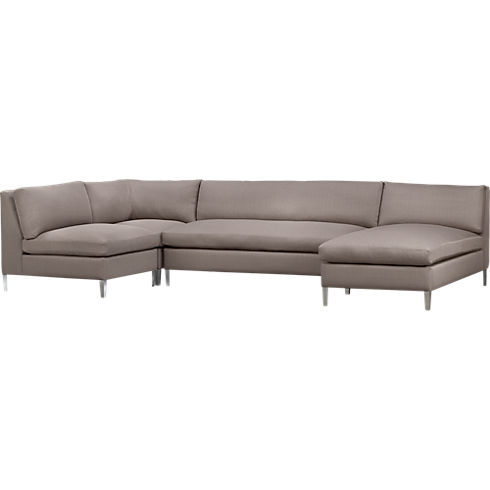 $2,996 CB2 Cielo Shadow sectional
This one might be a little too modern for me. The legs look too small for the bulky seats.
$1,847 West Elm Walton 3 piece sectional
96"w x 72"d x 27"h.
If you special order this in another fabric (it usually comes in velvet) like the basket weave which I prefer, cotton weave, or pebble weave, then it is $2,047.
$2,997 West Elm Dunham Down-filled sectional
106"w x 73"d x 37"h.
This is the tossback fabrication which means the short L part of the sectional has a low back. The other kind is the
box cushion
.
Not sure what I prefer. But I do like down!
$2,850 Room&Board Metro Sofa with angled chair
Metro
140" Sofa with Right-Arm Angled Chaise in Charcoal
The angled part reminds me of the chair and a half concept which I like, and takes up less room than a full L.
Orson
111x111" Three-Piece Sectional in Cement
This looks sturdy and comfortable.
H 29" W 117" Seat H 16"
Why so expensive? I don't know. Not sure it is worth 2-4x the others.
99W x 105L
Another super pricey one but it sounds like the cushions are made of angel wings "the latest "ultra-lux" technology— highest quality foam layered over inner springs and wrapped in down—for luscious cushions that will hold a pristine shape for years to come"