For short trips away, it's nice to have a shoulder bag that you can haul your stuff in instead of a suitcase or backpack.
Here are 3 that I like, that seem to have a bunch of room:
$31.99 Baggallini Expandable tote bag
16" x 18.5" x 5"
I like this Olive color, but you can get it in brown, black, or red.
The olive would not show dirt and I wouldn't be worried about putting it on the ground.
The material is crinkle nylon which is a lightweight durable fabric, and it fully zips on top unlike open totes that spill all your crap on the subway floor when you put them down :(
The 10" straps are long enough so you can wear it as a shoulder bag or hook it over your knee when you are sitting so it doesn't touch the subway floor.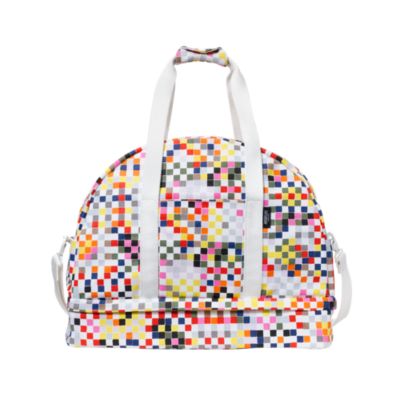 $180 Kate Spade weekender
16" x 19" x 8"
This is the Sampler pattern, which is a mosaic of tons of colors.
It's like the same idea as that ubiquitous green and blue mottled school carpet but done up in a nicer way; the pattern doesn't show dirt. I just wish the handles weren't white because then it would be easier to keep it looking clean.
It's a coated canvas bag in a doctor bag or bowling ball bag shape, and has a zipper along the top and a separate zippered compartment on the bottom for shoes.
So your stinky feet and gross gum don't mess up your clothes. Smart!
$149.50 Duluth Trading Company Postmaster's Tote
14¾"W x 8¾"D x 17¾"H
The postmaster's tote would be good for men or women and has a classic and timeless shape and color.
The main material of the bag is strong firehose cotton canvas, and the trim is leather.
There are tons of pockets and different places to put things. It has a long shoulder strap and also a little hand carry handle.