I wonder if the little pieces of moss come off on your feet, but I love the idea of walking on moss and having plants make use of the extra water and humidity in the bathroom: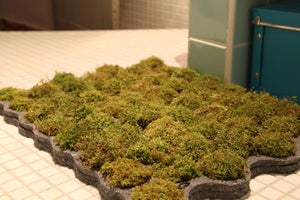 $103 Moss bathmat Larosee (79.90 euro)
"Imagine getting out of your bath or shower and delicately setting foot on a moss rug. Now imagine the water running down your legs and watering that unique carpet. There is an obvious natural cycle there: the rug "Larosée" collects the water while you enjoy a soft contact with this flora, which is reputed for its ideal massage of the acupuncture points situated on the sole of the foot.
"Larosée" is an ecologic and live rug: the moss composing it evolves through time on a base made of recycled latex. The moss likes shadow and humidity and stays green throughout several months. The air cells (moss) form (of the) a carpet which shape and color might vary (depending under which tree they have been collected). The edges are shaped like a wave in order to allow several rugs to fit together to cover the surface you desire.
Beyond its original aesthetics "Larosée" is a subtle invitation to reflect on the importance of ecological challenges: water is a vital element which was thought to be an endless resource, free and pure, but nowadays everyone is aware that access to water, its quality and a moderate consumption are among the key challenges of the future."
A more zoomed-out view: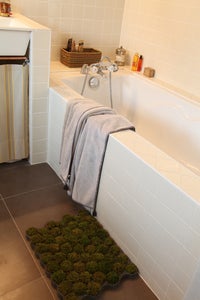 The designer, Nguyen La Chanh, says she picked hardy moss species that can deal with being stepped on, but that this wouldn't be a bathmat that would last a year.
You can buy replacement moss chunks, though.